Travels with my mum - to Vietnam and Cambodia
It had been a long time since Diane Kenwood holidayed with her mother, but when Ruth announced she wanted to visit Vietnam and Cambodia and would Diane and her sister like to go with her, they didn't hesitate.
My mum, Ruth, has always loved to travel, but since the deaths of my father and then some years later, her partner, she's struggled to find travel companions with the appetite and good health to accompany her on the adventurous trips she still loves to take – one of the drawbacks of living to a venerable age.
But it became rapidly clear that arranging such an ambitious trip would be hugely time consuming and not a little stressful. It's stating the obvious I know, but Vietnam and Cambodia are a) very far away and b) very big! So if you're going to travel that distance, then tour, it makes sense to go for a reasonable length of time and see as much as possible.
The three of us quickly agreed that an organised trip would make life easier and as Riviera Travel, offer a 16 day Vietnam and Cambodia tour that seemed a good choice.
Checking in though, I'd be lying if I didn't admit to some pre-departure apprehension. It's been many years since mum and I holidayed together and even longer since I've travelled with a tour group, especially one consisting of 35 strangers. And while Mum's in remarkably good nick for someone of 82, she does have hip and back problems that make it painful for her to do much walking; and the itinerary mentioned a LOT of walking.
What's more, even though we'd chosen spring, rather than steaming summer, it was still going to be very hot in places with high humidity. Sapping for travellers of any age, but especially so when you're older. Also, though I'm very close to mum, there are times when, frankly, we get on each other's nerves. And we were going to be together, 24 hours a day, for 16 days?
As it turned out, that was a waste of several perfectly good worries. It would have been hard to find a more delightful group of travelling companions or a more wonderfully caring and informative leader than our guide Antonia.
Ironically, even though my sister and I were amongst the youngest (makes a change!) the energy of some of the older members put us to shame and they were all unwaveringly solicitous of mum. There was never a moment when someone wasn't offering her their arm or ensuring she had a drink/seat/spot in the shade. Mum coped with the heat, the humidity and the travelling with impressive aplomb, and though I can't say we managed to rub along harmoniously all the time (thank goodness for my peacemaker sis!) our wonderful shared experiences will be memories I will treasure forever.
We all loved the chaotic vibrancy of Hanoi, where even the almost continuous rain couldn't mar the delight of exploring the narrow streets in the old quarter, the splendour of the Temple of Literature and the imposing marble mausoleum of Ho Chi Minh with the great man eerily embalmed inside.
We were enthralled by the ethereal beauty of Halong Bay, with its 3,000 limestone islands looming out of the warm grey mist.
Then there was the enormous Citadel in Hue (encircled by 6 miles of 65-foot thick walls), Vietnam's last royal capital and the country's religious, cultural and educational centre; the beautiful seven-storied Then Mu pagoda and the almost hilariously huge mausoleum to Emperor Tu Duc, with a nod to his 104 wives, which took 3,000 workers three years to build.
We revelled in the steamy, teeming liveliness of Ho Chi Minh City, or Saigon, with it's streets packed with thousands of motorbikes. We were fascinated by the astonishing Cu Chi tunnels – claustrophobically narrow in places, widening out to accommodate hospitals, kitchens and sleeping quarters in others, and stretching for an incredible 200 kilometers; and absorbed by the harrowing, but essential-to-visit War Remnants Museum.
Slowing the pace a little, we spent part of a day cruising the mighty Mekong River, stopping off at an island to watch the locals make rice paper and coconut toffee.
We weren't brave enough to sample the vodka from bottles containing whole scorpions embalmed inside, but we did tuck into delicious fried elephant-ear fish for lunch.
Arriving in Cambodia we spent the first morning exploring the beautiful Royal Palace in Phnom Penh, followed by a visit to the Tuoi Sleng Museum, a former school which was used as a prison by the Khmer Rouge during their occupation of the city. Distressing, but necessary to understand the terrible events this country endured.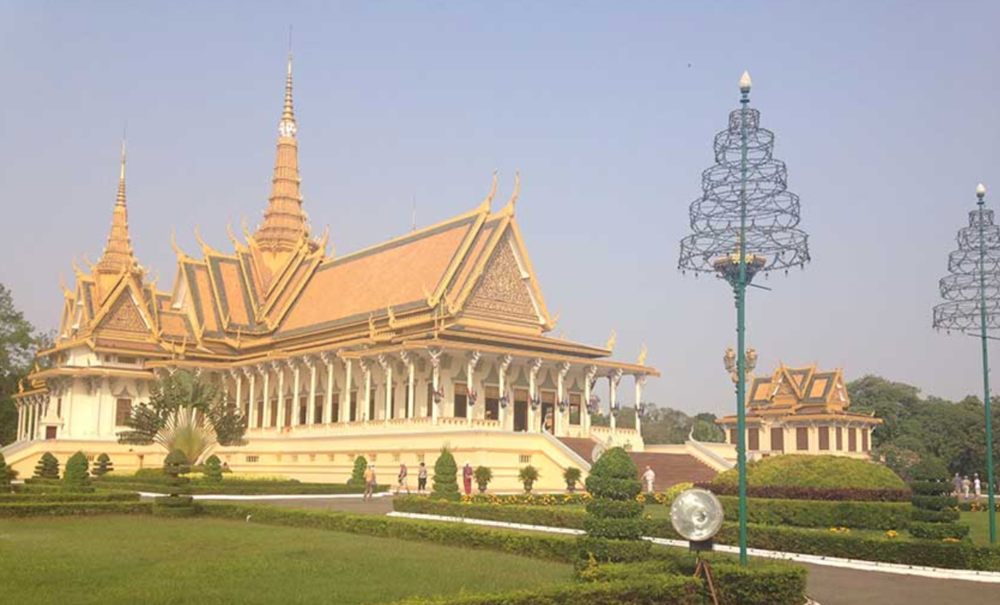 And finally, the best saved for last.  Astonishing Angkor. Impossible to convey the scale and magnificence of the ruins of Cambodia's13th century capital.
Vast Angkor Thom with its five monumental gates and 300 foot wide moat. Angkor Wat, one of the largest religious structures in the world, and my favourite, the bewitching temple of Ta Prohm, slowly being reclaimed by  tropical forest.
Enormous trees pierce the ruins, their roots snaking around the remains of the buildings like the tentacles of giant octopuses. Absolutely magical.
By Diane Kenwood