Iceland - a country like no other
Majestic landscapes, thrilling sights and wonderful adventures are what Diane Kenwood discovered on an unexpected trip to Iceland.
I'm ashamed to say I wasn't really much bothered about going to Iceland. There were so many other countries on my must-see list. But when friends suggested we join them for a few days of exploring and adventures, well it seemed rude not to say yes. And blimey am I glad we did! What a stunning and fascinating country it is. And what adventures there are to be had there.
Partly because of the time of year, partly because of the amount of time we had, and partly because one of our group is a passionate amateur geologist so wanted to see as much of the extraordinary topography of the island as possible, our tour didn't include seeing the northern lights, or whale watching, two of the classic Iceland visitor activities. So I can't report on either of those. But I can report on the astonishing sights we did experience. And in the process hopefully persuade you that a trip to Iceland should be bumped immediately up the list of your travel plans.
Although Iceland is only the size of Wales and Southern England combined (with, by the way, a population of just 380,000), most visitors, who generally stay an average of less than a week, will only see a small fraction of it. Our itinerary took in the classic sights of the Golden Circle – an overview of a section of the tectonic plates that run through the island, the country's largest waterfall, a geothermal area and the geysers that burst out of the earth there, and a stunning drive up and on to the country's second largest glacier.
We had a day exploring the wonders of the south coast which included the chance to walk behind a huge waterfall, and right up to another, to marvel at the rock formations and black sands pounded by the Atlantic surf that provided some of the backdrops for Game of Thrones, and to walk across another glacier, into the most astonishing ice cave and then along a naturally formed tunnel right through the heart of the glacier.
We bathed in the bizzare, milky waters of the Blue Lagoon, wandered the delightful streets of the capital Reykjavík and ate some of the most delicious food we've all ever tasted.
What follows are just brief details of all the places we saw and things we did on our five day trip, along with links to find out more. There are many different ways to explore the island – self drive, private tours, group tours – so you can pick the way that suits you best. Whatever you choose, you'll find a well maintained road system, efficient busses, but no other public transport (there are no trains – it would be too expensive to build and maintain a rail system and there simply aren't enough people to use it to make it financially viable), and friendly welcoming people, all of whom speak impeccable English.
The world's northernmost capital city, is compact, easy to navigate and dotted with colourful buildings and inviting shops. The distinctive Hallgrímskirkja church is an iconic central point of the city and one of the most visited places in the country.
There are panoramic views of the city and beyond from the top of its tower. Entrance to the church is free, but you have to pay to get up the tower (which you do by lift)
Make sure to go inside the modern City Hall, built over the northern bank of lake 'Tjörnin close to the city centre, to see the huge 3D relief map of Iceland on the ground floor and marvel at how isolated some of the small communities, marked with orange dots, are that are dotted around the island.
Visiting details for Hallgrímskirkja church HERE and for City Hall HERE
The Icelandic Phallological Museum may not be to everyone's taste, but what is arguably the world's largest collection of phallic specimens belonging to all the various types of mammal found in one country (can't say I've heard of another similar collection anywhere else. Have you?) is actually surprisingly informative and educational, if a bit eye-popping and at times hilarious.
More info and entry times and prices HERE
Probably one of Iceland's best known sites, the The Blue Lagoon is a geothermal spa set in a barren, jagged lava field about 40 minutes outside Reykjavik. The warm (37-39 degrees), milky blue water is naturally heated and rich in skin-restoring silica and sulfur.
A handful of silica mud is available for free at the poolside so visitors can enjoy a cleansing face mask, and there are saunas and steam rooms along one edge of the pool. Skincare products can be bought in the on-site shop, and there's also a restaurant and cafeteria. Unsurprisingly the lagoon gets very busy, so you must book in advance.
Details are HERE
This next group of sights form the popular Golden Circle.
Thingvellir National Park
Thanks to its geological and historical significance, the park is the only UNESCO World Heritage site in Iceland. It is the site of Iceland's parliament from the 10th to 18th centuries and it sits astride a rift valley caused by the slow separation of the North American and European tectonic plates, which are still moving away from each other at the rate of about an inch a year.
We only stopped off at Laugarvatn but there is a spa hotel where you can stay and enjoy the benefits of the hot-spring warmed waters of this beautiful, large, shallow lake. And where we also enjoyed seeing one of the very few safety warning signs we encountered – Icelanders believe in trusting people to have enough common sense not to put themselves or the environment at risk.
Along the shore line of the lake are pockets of boiling water bubbling up through the earth, which is so hot that you can actually bake bread in it.
More info on Laugarvatn HERE
Haukadalur Geothermal Field
North of Laugarvatn is the best known area of geothermal activity. With its hot springs, fumaroles, mud pots, and geysers, which include the now inactive Great Geyser, and the very much not inactive Strokkur, which shoots huge plumes of hot water into the air every 15 minutes or so. It's an astonishing sight.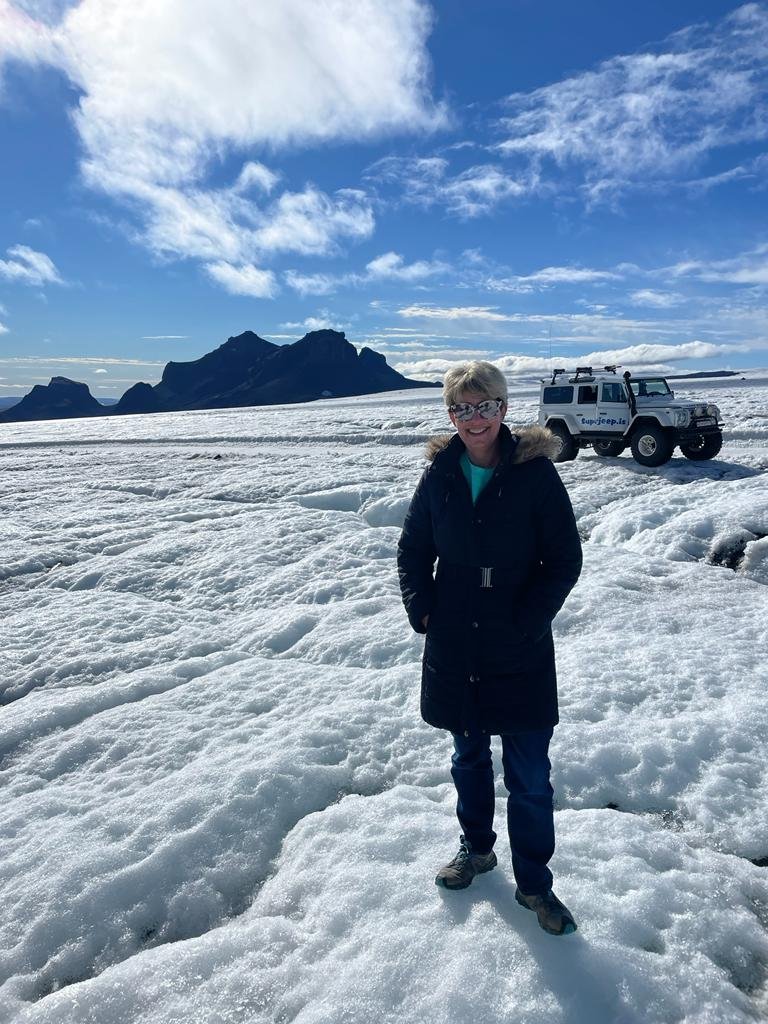 Langjokull, or the Long Glacier, is the second largest glacier in Iceland, a 935 square kilometre area of snow compacted upon snow over hundreds of years so that at its thickest it's 580 metres deep. You can take jeep or snowmobile tours onto the glacier, and it's possible to ski and hike on it too.
Find out more HERE
The water from Langjokull flows into the Hvítá river before cascading 32 metres altogether over the two stages of the huge Gullfoss (or Golden) Falls and into the Gullfossgjúfur canyon . The sight, and roaring sound, of between 140 cubic meters of water in the summer, 109 cubic metres in the winter, plummeting over the the sides every second is astonishingly spectacular.
More info on the falls HERE
Our second day of touring was along the stunning south coast.
If you ever wondered what it was like to be behind a waterfall, Seljalandsfoss is the place to find out. The tall, narrow cascade of water tumbles over cliffs that were once on the coastline, and if you take the path all the way around the back of the falls, be prepared to clamber up quite steep rocks (you can go behind and return the way you came along an easier-to-navigate path and walkway). Either way, you also need to be happy to get pretty wet!
More info on Seljalandsfoss HERE
The black sands and remarkable rock formations of Reynisfjara provided the setting for some of the many scenes of Game of Thrones that were shot in Iceland. I'm afraid I've never watched it, so I can't tell you which ones. I can tell you though that whether you're a GOT aficionado or not, you can't fail to be bowled over by the exceptional geology of the area. Be warned, the sea here is remarkably dangerous, so don't be tempted to get too close to the waves edge.
Myrdalsjokull was the location for probably my favourite of all our Iceland adventures. It was the place where we clambered up into a huge naturally formed ice cave, and along a tunnel edged with gushing melted ice water, right through the heart of the glacier itself and out the other side. It was insanely thrilling. The landscape of all the glaciers is constantly changing so these incredible natural phenomenons appear and then disappear over the seasons, so there's no guarantee of what you'll be able to see when you go.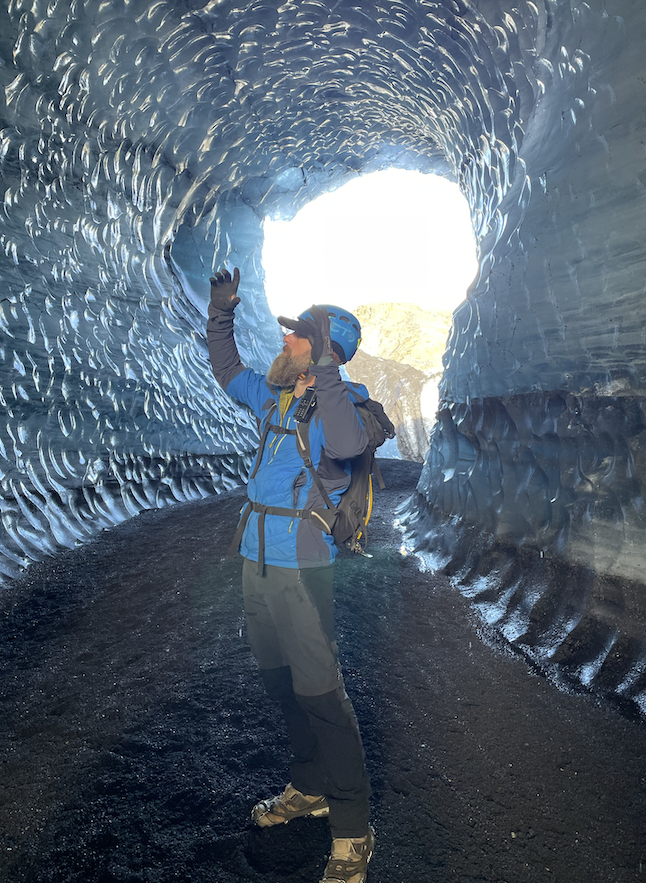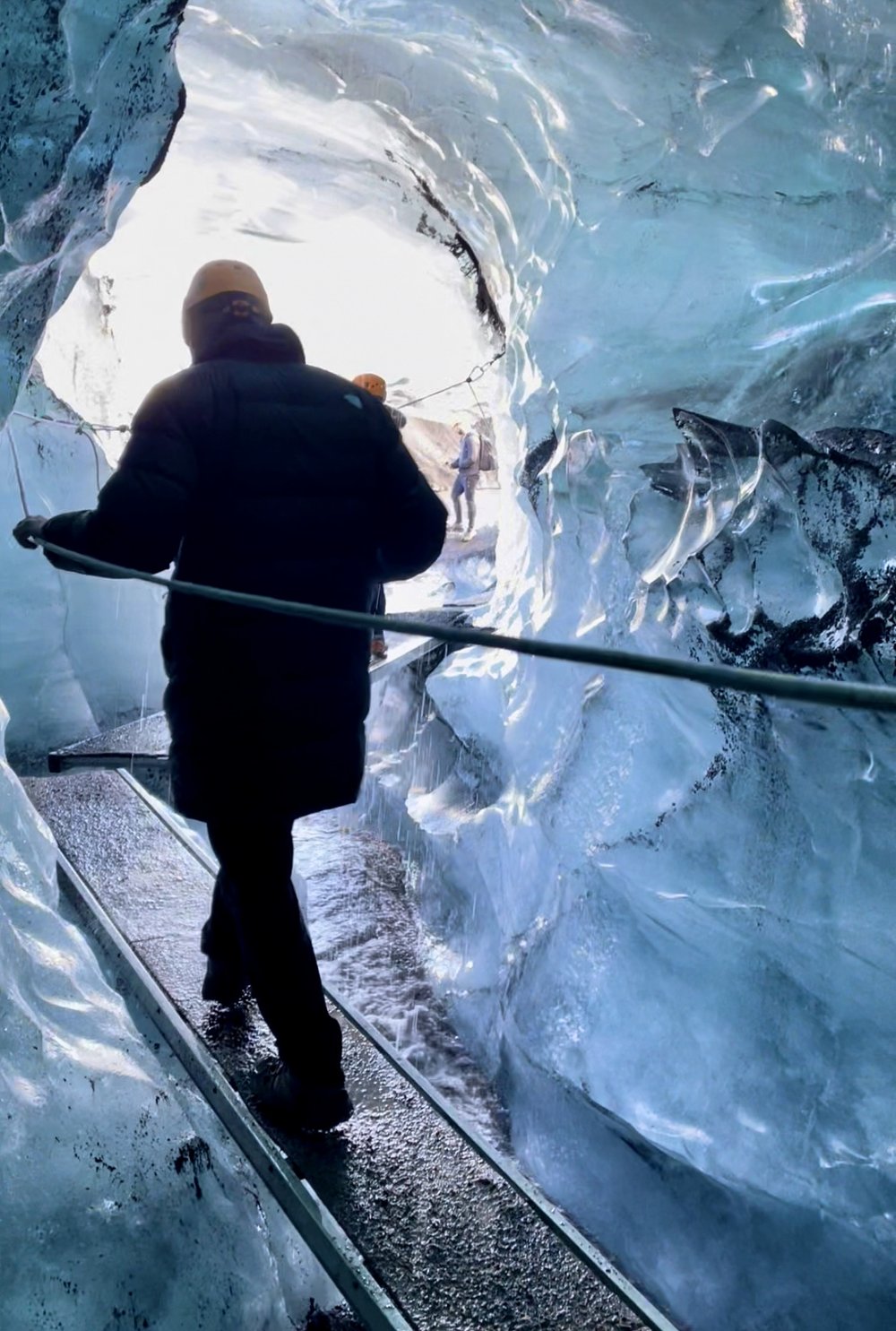 Learn more about Mydalsjokull HERE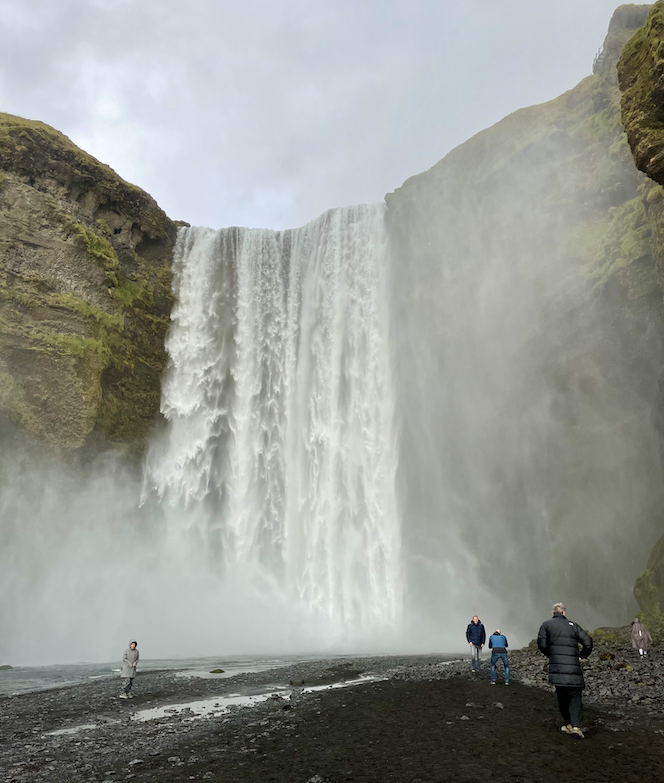 Skogafoss is one of the biggest waterfalls in the country. The 25 metre wide plume of water plummets 60 metres and thanks to Icelandic faith in visitor's self-regulation, there are no barriers to you walking as close to the water as you choose. Of course, the closer you get, the wetter you get, so that acts as a pretty effective natural deterrent to any truly madcap derring do.
There's more info HERE
As I mentioned at the start (if you've made it this far, thank you), we ate some sensationally good – but do note, not cheap – food each evening. Here's where we ate in Reykjav.
The delicious, hearty food in this friendly family run restaurant focuses mainly on local fish and meat.
Ridiculously tasty, elegant, brasserie-style dishes in a warm and welcoming atmosphere.
Asian fusion menu using fresh local ingredients.
Something completely different – a fast food restaurant serving a limited, but flavourful selection of reasonably priced traditional Icelandic dishes.
A trip to Iceland will certainly put a dent in your bank balance. It is not a cheap place to visit. But it will leave you with unique memories and experiences that you'll treasure forever.
By Diane Kenwood